FABRIZIO MOCATA
TANGO TANO
MAY
13 9pm - Reggio Emilia Barrio De Tango INFO barriodetango.it
14 10pm con Ana Karina Rossi - Parma - Officna Tango INFO http://www.officinatango.it
16 Milonga Popular - Embrace Tango Festival - Berlin INFO http://embrace-berlin.de/milongas-program.html
21 Zotto Tango Academy - Milano http://www.zottostudios.com
JUNE
8 Milonga CRISTAL - Milano
11 Riss Tino - Biberach
con N. Bolani, M. Musico, M. Staino
12 Siena - Circolo Coroncina
con N. Bolani, F. Furlanich
con T. Gomez, C. Usuga, M. Tommasi
30 RecitaL CanTANGO - Amiata Piano Festival - GR
con F. Armiliato, S. Tolomeo, C. Cipoletta, N. Bolani e Los Guardiola
WEDNESDAY, APRIL 13 AT 8:45PM
Mocata Scaglia Wertico Trio (featuring Fabrizio Mocata, Gianmarco Scaglia & Paul Wertico) - Auditorium di Pomarolo, Trento, Italy
THURSDAY, APRIL 14 AT 4:00PM
(See 2016 Clinic Schedule below)
THURSDAY, APRIL 14 AT 10:00PM
Free The Opera! - Mocata Scaglia Wertico - Cotton Club Roma, via Bellinzona, 2, Rome, Italy - Call +39 069 7615246 for info.
FRIDAY, APRIL 15 AT 9:00PM
The Music Colours series presents Free The Opera! - Mocata Scaglia Wertico Trio - Teatro Delle Palme, via Vetriera a Chiaia 12, Naples, Italy - Call +39 081 4104486 for info.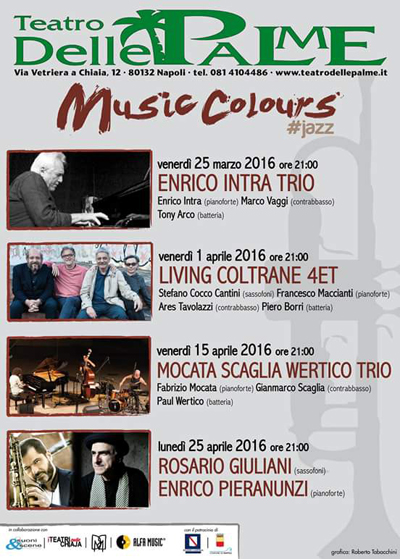 SATURDAY, APRIL 16 AT 4:00PM
(See 2016 Clinic Schedule below)
SATURDAY, APRIL 16 (TBA)
Mocata Scaglia Wertico - Bari, Italy
March

Sabato 19 21.30 La Menagere Firenze Jazz trio con Gianmarco Scaglia & Aldo Viti
Domenica 20 18.30 Milonga dei Portici Bologna con Cesira Miceli & Pablo Veron musicalizza Hermanita Tdj
https://www.facebook.com/events/814627148641280/
Martedì 22 20.30 Milonga al Caffè Letterario Roma con Marcelo Boccanera
https://www.facebook.com/events/554618271363182/
Giovedì 24 20.30 Milonga a Villa Taticchi Perugia con Marcelo Boccanera
https://www.facebook.com/events/717877261649089/
Venerdì 25 22.30 Milonga Blu Circolo Vie Nuove Firenze con Marcelo Boccanera
Domenica 27 e Lunedì 28 Hotel Garde Siena workshop Intensivo con Pablo Veron
Welcome to the homepage of Fabrizio Mocata
11-12 De Septiembre "Màs que Tango" Fabrizio Mocata y Marcelo Tommasi. 8 p.m. Casa Teatro El Poblado - Medellìn
$ 25.000 Reservas-Teléfono: (574) 321 1100
Recital CanTango
Fabio Armiliato - voice
Fabrizio Mocata - piano and conductor
Live from June 21th concert - Auditorium Paganini Parma
Fabio Armiliato voice - Fabrizio Mocata piano and conductor
Filarmonica A. Toscanini
"Free The Opera!" LIVE feat. G. Scaglia - P. Wertico
Fabrizio was born in Erice, Trapani, Sicily. He spent his youth in Mazara del Vallo where he begins to study piano privately and play in small venues and festivals on the island.
In 1995 he moves to Florence where he completes his artistic formation obtaining a diploma in classic piano at the 'L. Cherubini' conservatory under the guidance of Professor Lidya Rocchetti
In 2008 he also obtains a Jazz specialization diploma at the same conservatory under the guidance of R. Fassi. He continues to follow in parallel his classical career as a soloist as well as with various chamber formations (amongst which the 'Rojo Porteno" quintet with whom he wins several chamber competitions). He also collaborates with various important names of Italian and World Jazz (R. Getz, A. Tavolazzi, S. "Cocco" Cantini, E. Fioravanti, S. Monteiro, B. Durham, M. Tamburini, P. Odorici, D. Malvisi, N. Gori, J. Helliwell, G. Scaglia and more…) playing in a diversity of festivals and events.
He receives important acknowledgements in jazz competitions for new talent ('1st absolute prize' in the Marsala Jazz festival in 1999 and 'second absolute prize' and 'special prize from the public' in the 'Chicco Bettinardi' competition at the 2005 Piacenza jazz festival).

In 2006 he participates as musician and arranger in the tango/jazz 'Mediterranean accordion' project by the accordion player Marco Lo Russo recording the cd by the same name for raitrade and publishing the live cd for Nelson records.
In 2008 he composes and performs the soundtrack for the documentary 'Once we were children' which celebrates the life of the famed American writer Joe R. Lansdale.

In November 2008 he participates in the 'Bobby Durham tribute' in Philadelphia playing with S. Monteiro and J. Hunter.
He publishes 'Puccini Moods' in 2009, his first solo album, accompanied by G. Scaglia on the bass and Ettore Fioravanti on the drums.In this record he re-elaborates the arias of the Tuscan composer and during its summer tour he receives guest performers such as R. Meli Lupi, J. Helliwell and N. Gori. In 2010 he published the live CD "Concerto per la Beata Cristiana" in wich he played famous pages of religious music in jazz mixing calssic and jazz ensemble (Watch on YouTube) .
Recently he created with some soloist coming from "Maggio Musicale Fiorentino" the tango project "Reffrain", in wich he took part as pianist and composer - www.reffrainquartet.com.
In october 2010 Fabrizio performed with A. Marcelli, G. Scaglia, M. De Aloe, C. Marrali, L. Petrocca and P. Crinelli in South Africa, Mozambico and Zimbawe. He just performed in the "Bologna jazz festival" and in the 1st italian jazz festival in Berlin with his project 'Puccini Moods'.

In December 2011 back again in Berlin in collaboration with V. Gregor, A. Marcelli and G. Scaglia and playing at the Tango Nou during the Tango Festival Berlin
In 2012, facing the international scene recording his new project in NY with M. Panascia, F. Nemeth and G. Garzone.

In February, he was in Granada for the film festivals Retroback collaborating with Sean Hepburn Ferrer as arranger and soloist alongside the voice of Westley Ivankovic for the Granada's band, a Big band made by 23 musician

Between February and March he was touring with the tango singer Ricardo Olivera in south america between Urugay and Argentia performing in different theatres and venues and he was invited to come back in december from the Italian Embassy and he'll perform as soloist with the "Orquesta filarmonica di Montevideo"
Just back from South America he performed in different jazz festival with Marco Panascia, Fabio Morgera, Paul Wertico, Gianmarco Scaglia, John Helliwell, Nico Gori touring betwenn Dolomiti and Pantelleria.

In August he was in Canada to perform in Toronto Tango Experience Marathon and in the Brampton Global jazz and blues festival, where he presented his personal composition as band leader.
in 2013 he recorded thw New CD "Free the Opera!" with G. Scaglia and Paul Wertico from Pat Metheney Group and he was selcted for the 54th Grammy Award competition.
He will perform the new CD in an italian tour performing in several jazz festivals in summer 2014

In 2013 he started to work with the world famous tenor F. Armiliato for his first tango CD. Fabrizio took the artistic direction of the project and in the CD he worked with all the important tango musician he use to work and including some stars like the soprano D. Dessì, The singers R. Olivera and A. Ardit, the bandoneon player R. Jaurena and the guitarrist J. Cobelli. The CD was recorded in Italy, Argentina and Uruguay.

He is also following the carrier performing recently in Canada, Holland, Germany, Argenitna and Uruguay. His piano solo is also expected for a tour in South America starting in october.
Puccini Moods - Coro a bocca chiusa.mp3
Puccini Moods - Nessun dorma.mp3
Piano recital

Casa de la Cultura de Maldonado - UY
March 10th 2012